Here is the limo that took us to Hartsfield airport - this was a surprise for us. My uncle Billy had said he knew a guy who drove people to the airport, and that he'd have it arranged for us to be dropped off and picked up. But we thought we'd be riding in an airport van, not a limo!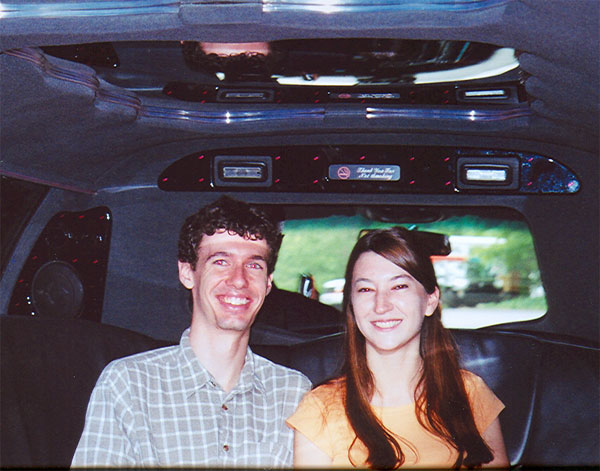 This was my first time riding in a limo, and it was pretty cool.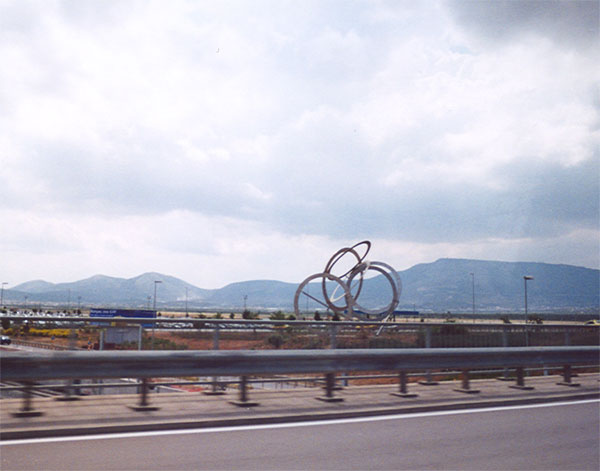 After a long flight that required a plane change in Paris, we arrived in Athens. A cab driver that my grandparents had arranged to pick us up drove us downtown to our hotel. We passed these Olympic Rings on the way there.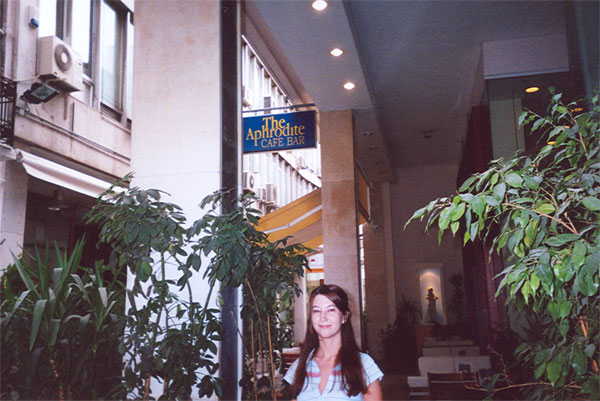 Our hotel was called the Cypria, and it was very nice. Downstairs was this Aphrodite Cafe Bar, where I would try ouzo on our last night in Athens. I can't say I liked it all that much, even when cut heavily with water!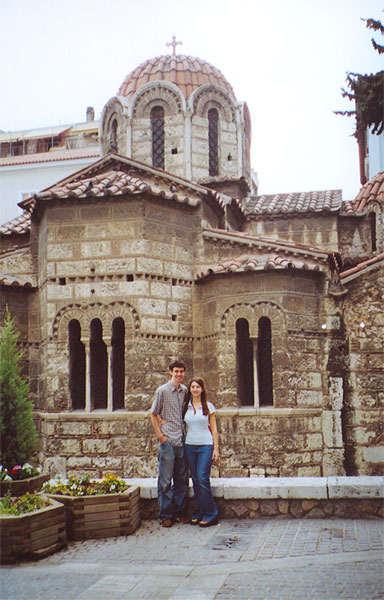 This old church was down the street from our hotel, in a courtyard in the middle of a bunch of clothing stores. The hotel was in the midst of a pretty posh shopping district.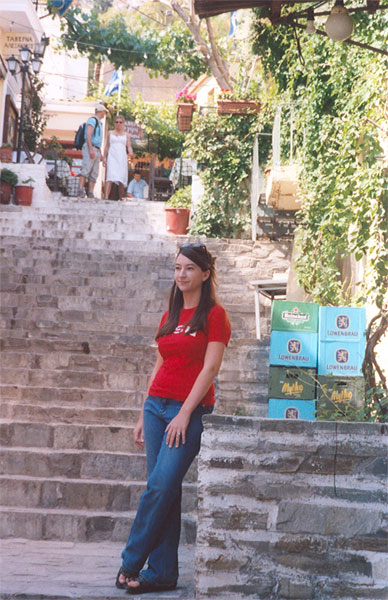 Here I am standing on a side street in Athens, on the morning of our second day there. We were on the way to the Acropolis, which was within walking distance of our hotel. I regretted wearing those jeans because it was pretty hot.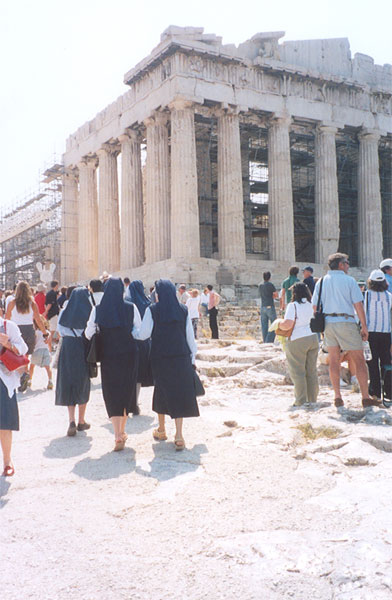 Some nuns checking out the Acropolis. It was pretty impressive - moreso than the Coliseum, though I liked that the Coliseum was in the middle of the city in Rome, as it made for a cool atmosphere. The Acropolis is pretty removed from the actual city of Athens - though you can see it from the streets below.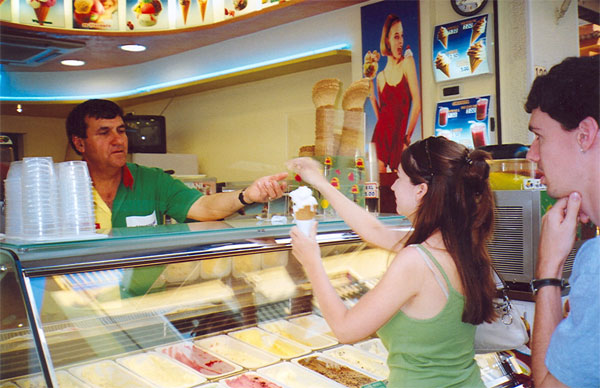 Here's me getting some gelato from a street vendor near the plaka (a touristy shopping area in Athens). It was good, though not quite as good as Italy's, of course.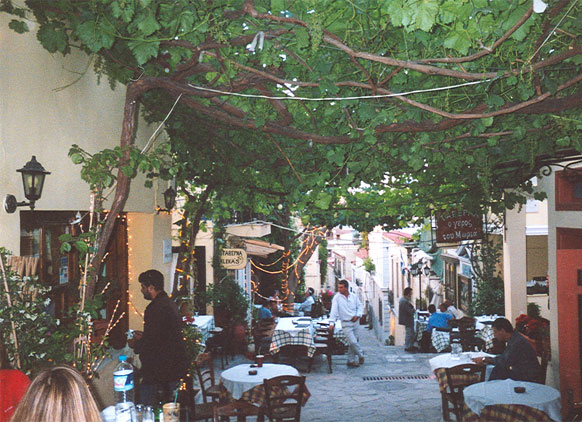 This is the street leading up to the restaurant where we had dinner on our last night in Athens. It was lined with many restaurants, and the owner of each was standing outside and trying to get people to come in by calling out and talking to them. Those green vines growing over the street made it very pretty.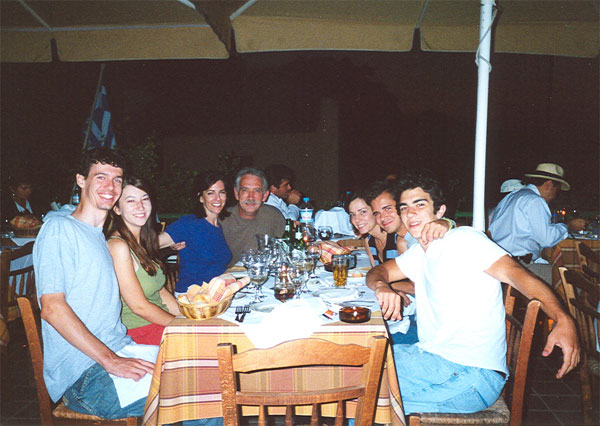 The restaurant where we ate on our last night in Athens was called Sisyphus, and it had a rooftop level with a view of the Acropolis. Of course, the umbrellas open over every table prevented you from seeing the Acropolis unless you craned your neck, but it was still a pretty view of the city and the sunset. In the above picture, from left to right, is Stu, me, Mom, Dad, my aunt Barb, my brother's friend Cody, and my brother. We had a good time there, and I had lamb and potatoes, which was excellent. The only problem was that the one bathroom was three flights downstairs, and I was drinking wine so I had to make many trips there.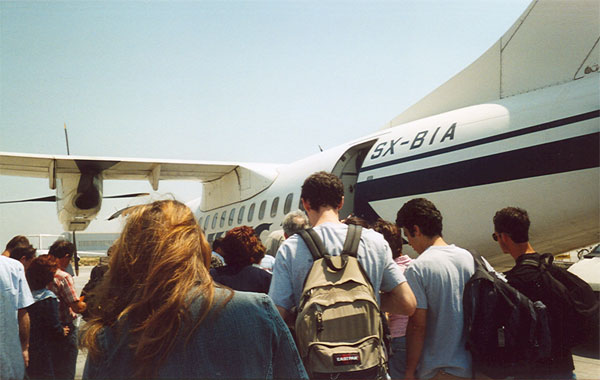 Here's the tiny plane we took to Samos. Kind of creepy, but you had a great view of everything you flew over, as the plane stayed pretty low.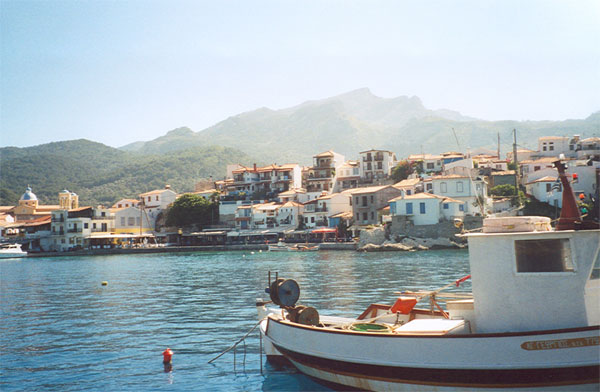 This is a view of my grandparents' house on Samos.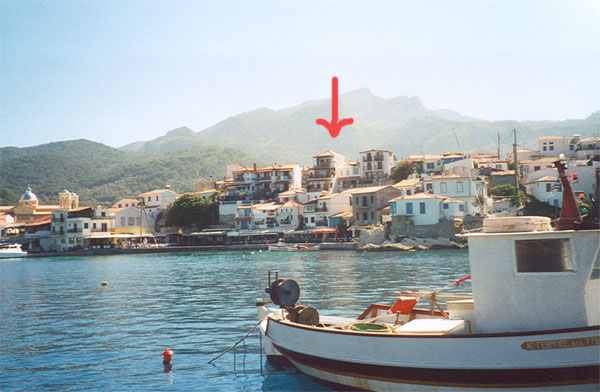 Here's a badly drawn arrow showing exactly which house I'm talking about.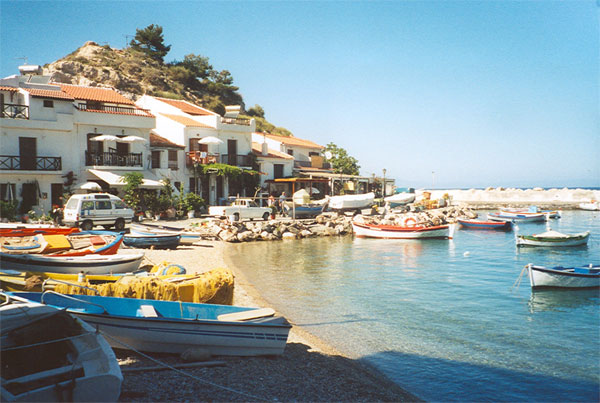 Here's a view of the harbor that the house looks down onto.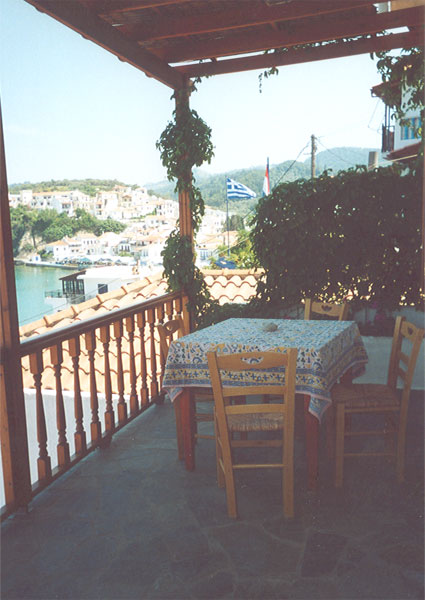 This is the porch on our level of the house, which we shared with my brother and his friend Cody.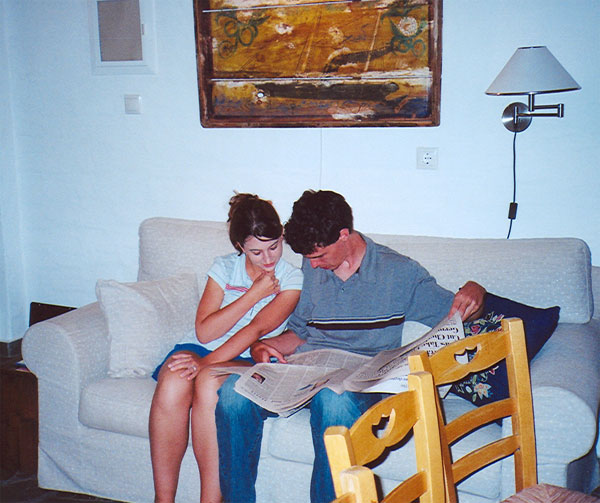 Stu and I reading the English language version of an Athens paper in my grandparents' living room area, on the uppermost level of the house (there are four levels . . . it's really hard to describe, even with pictures. You kind of have to see it in person to get a sense of what it's like. There are 92 steps to the top!)
This is the beach we frequented in Kokkari, which is the town on Samos where my grandparents live. As you can see, it's comprised of pebbles, not sand. Kind of annoying, but then, so is sand. We rented beach chairs on most days.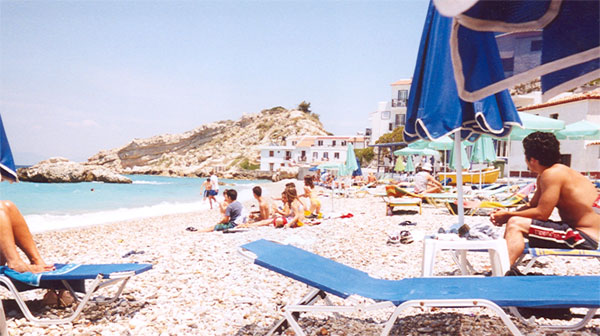 Here's an earlier day-view of the Kokkari beach - that's my brother on the right.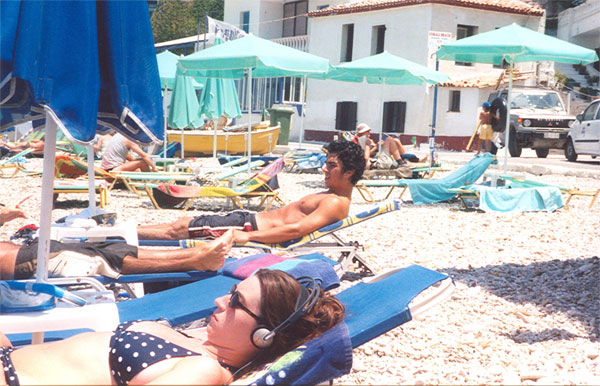 Here I am lying on a rented chair on the beach, listening to headphones and looking kind of pissed! The bad thing about the beaches was that the water was freezing, and really hard to get into. Once you were in it wasn't so bad, though. One lagoon area near my grandparents' house had great snorkeling (I saw a huge school of fish, and a sea cucumber!!), but it was hard to stay in for very long because moving so slowly through the water made you very cold.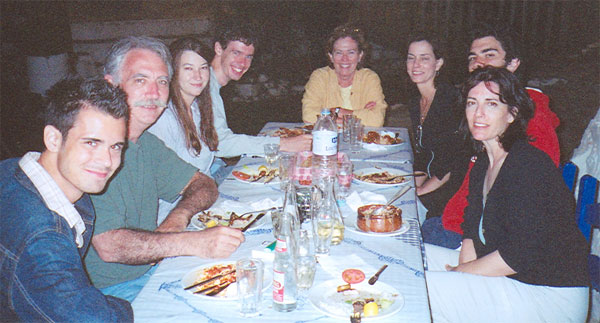 This was taken at a mountain restaurant that we went to one night. This place had great appetizers but the entrees were kind of lacking. Still, we had a good time, as it was pitch dark, we were the only people there, and the atmosphere was awesome, with all these giant oak trees that were lit up. The drive up was kind of scary, on a steep, winding road in the dark!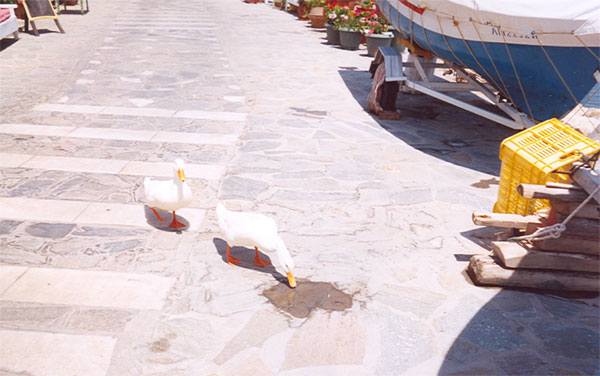 Here are the Kokkari ducks - a pair of white ducks who swam around together all day and night. Whenever we sat at the restaurants near the water at night they would be swimming back and forth the whole time we were there. They didn't seem to be afraid of people, and they walked right past Stu and I on the beach one afternoon.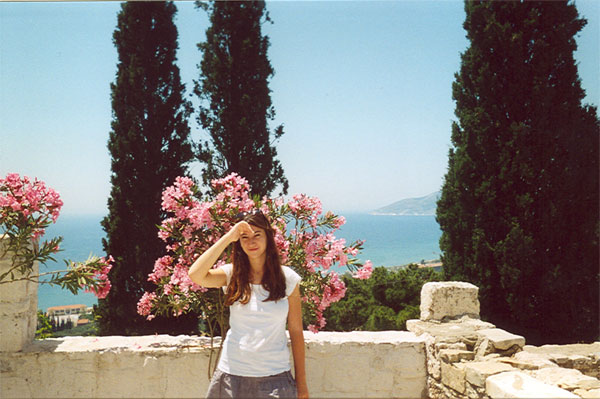 This was taken at an old monastary we visited. It featured a chapel that was located at the back of a deep cave. We went down to look and it was quite creepy - as soon as we descended into the cave we could see our breath, it was so cold. The chapel was lit by candles, was very small and featured a few icons. It was neat.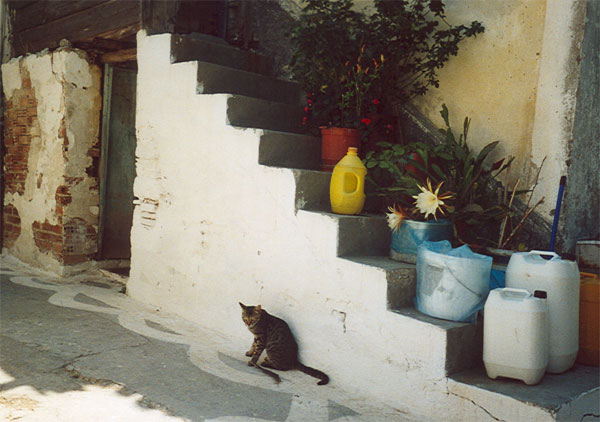 This cat was so cute - we saw her several times while walking through Kokkari, and she had this feather with her more than once! The town was full of stray cats: it's actually a pretty big problem on the islands, whereas in Athens there were stray dogs everywhere.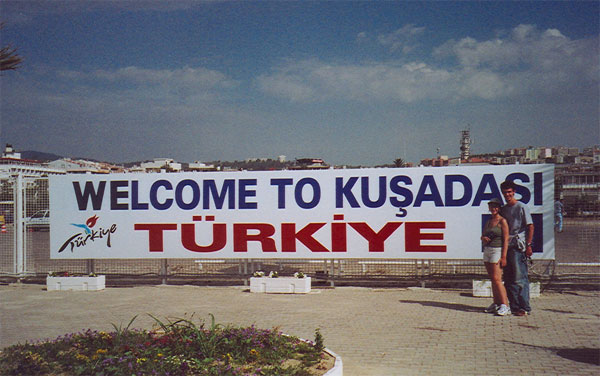 We took a ferry to Turkey one morning - Samos is very close to it, and the boat ride was only about an hour long. Turkey is a strange, strange country. It was dry and desert-like, and there were storks nesting everywhere - on top of lamp posts, and even on top of the last remaining pillar of the Artemis Temple, one of the wonders of the ancient world! Turkey wouldn't have been too bad if we hadn't lingered for too long in the shopping district, where aggressive salesmen shout at you as you walk down the street, trying to get you to come into their junky tourist shops.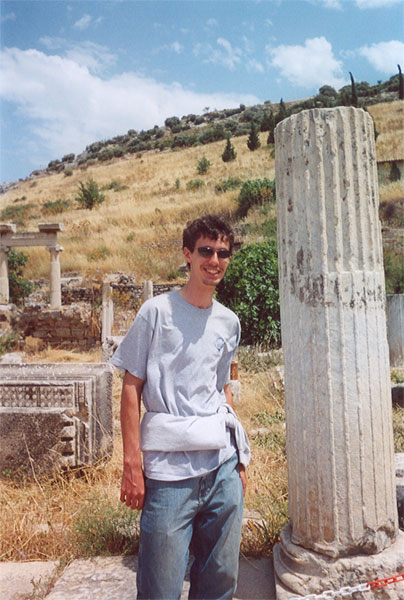 Here's Stu standing beside a column at Ephesus, the ancient city. I'm not much of a ruins person, so I basically paid ten euro to not be able to pee for two hours while wandering in the heat. Everyone else seemed to enjoy it, though. When we finally got to the exit I saw a bathroom and ran toward it with joy, but then some men started shouting at me - turns out you had to pay to use the bathroom! I gladly would have paid another ten euro, so the fifty cents (I don't know what that is in euro - but it was half a euro) that they charged was no problem. It was actually a blessing that the bathrooms were pay-only - if they hadn't been they would have been really nasty, as the place was packed. As it turned out, they were rather clean, especially for being semi-outdoors.
One great thing about Ephesus were the beautiful, otherworldly plants growing in the wheat fields that surrounded the site. I love this picture - I want to get it blown up and framed.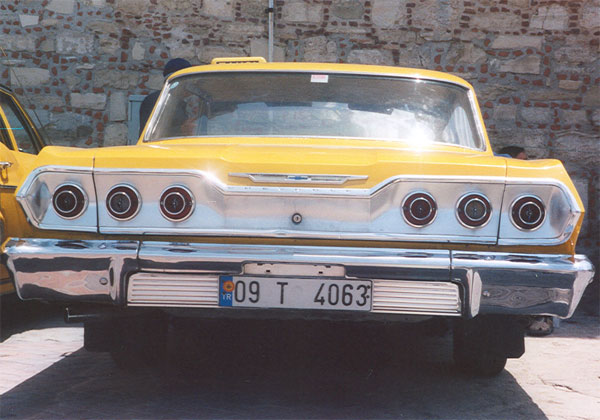 This was the taxi that we drove around in while in Turkey - so cool!
This was taken on our last day in Samos, at a little cafe where we had gone almost every morning for coffee and fresh orange juice. Across the street was our favorite bakery, where we pigged out on pasteries every morning. That's me, Stu and my dad toward the back there.